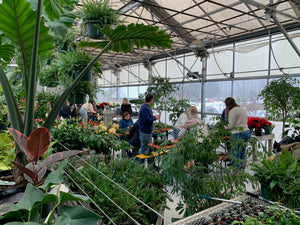 Workshops & Festive Happenings for All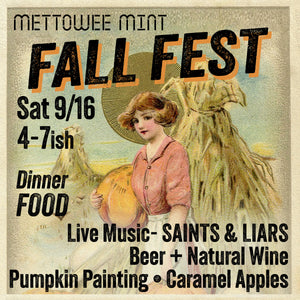 FALL FEST 2023
Saturday, September 16th, 4pm -7pm-ish
Hey friends, we're once again donning party hats to celebrate the season's end! Join us for good music, food, libations and family fun! The mighty Saints & Liars will be with us, so get ready to boogie yourself into fall foliage. Watch for more details to come.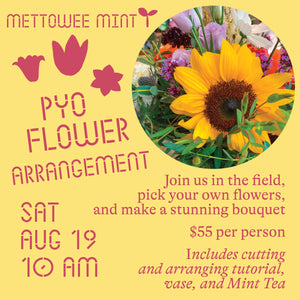 PYO Flower Arrangement
Saturday, August 19th, 2pm
Let's stop and smell the flowers! Join us for a morning of flower picking and arranging. Tickets include a cutting tutorial, arranging instruction and your take home vase of flowers, plus a delicious iced mint tea.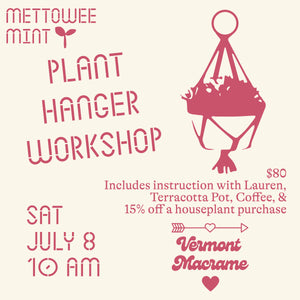 Plant Hanger Workshop
Saturday July 8th, 10am
Make your own plant hanger with Vermont Macrame!
Tickets include everything you need for your plant hanger, a terracotta pot, coffee and a 15% off coupon for a houseplant of your choice.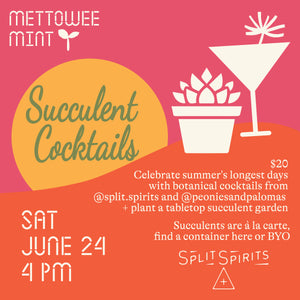 Succulent Cocktails
Saturday, June 24, 4pm
Let's celebrate the long days of summer! Join us for botanical cocktails from @split.spirits and @peoniesandpalomas while you plant a tabletop succulent garden. 
$20 tickets includes one cocktail; succulents a la carte.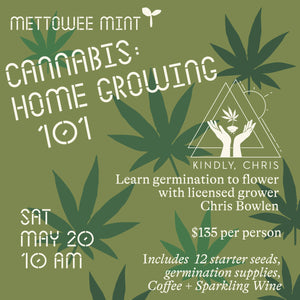 Cannabis: Home Growing 101
Saturday, May 20th, 10am
Want to start your legal, homegrown cannabis crop, but not sure how? Join us for a crash course with Chris Bowlen, the Mettowee Valley's licensed cannabis grower. Chris has decades of cannabis cultivation experience and will get you ready for success from germination to flower. 
Tickets include 12 cannabis seeds (in a variety of strains Kindly, Chris has bred for our region), germination supplies, plus coffee + sparkling wine.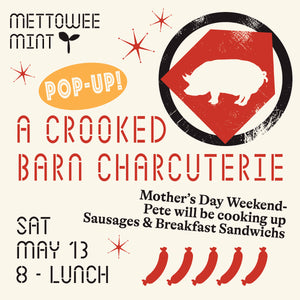 Breakfast Sandwich Pop-up for Mom
Saturday, May 13th, 8am
A Crooked Barn Charcuterie is popping up for Mother's Day! Dine on breakfast sandwiches and sausages while you shop plants and gifts for MOM!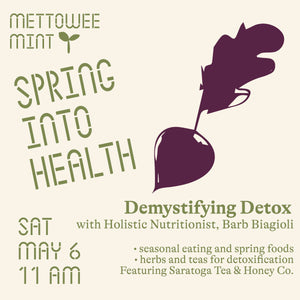 Spring Into Health
Saturday, May 6th, 11am
Spring is an opportunity to renew and refocus on health. It's the season of rebirth – a time to step into the sunshine. Let Barb teach you about your body's natural detoxification pathways and optimize your health. This workshop will give you the tools to free yourself from toxic overload, release unhealthy winter habits, and cultivate a healthier, more nourishing spring plate.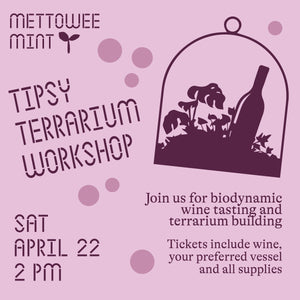 Tipsy Terrarium Workshop
Saturday, April 22nd, 2023
2pm
Join us for wine tasting and terrarium building! We'll taste fun, summer ready biodynamic wines and guide you through terrarium planting. Select a glass terrarium at checkout. Tickets include all plants and supplies required for assembly.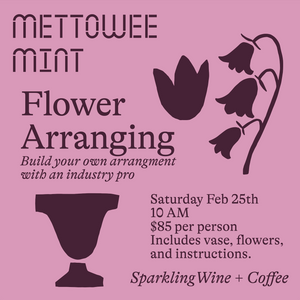 Flower Arranging Workshop
Saturday, February 25th
10 am
Come play with flowers to learn tips, tricks and mechanics from an industry pro. Tickets include a vase, flowers, instructions plus sparkling wine + coffee.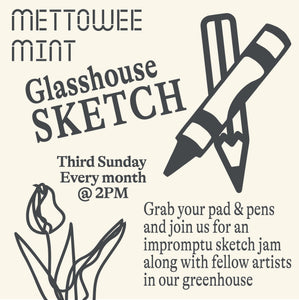 Glasshouse Sketch
Third Sunday monthly
2pm
Mark your calendars, set your watch. We're gathering monthly for glasshouse sketch jams! All ages welcome. Bring your pads, pens, paints, anything you like.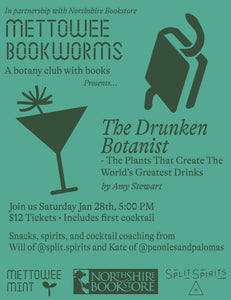 Mettowee Bookworms
Dust off late January blues and join our next Mettowee Bookworms January 28th for The Drunken Botanist! @split.spirits and @peoniesandpolamos will be in the glasshouse to chat & serve all things botanical cocktail. $12 tickets includes a cocktail and snacks.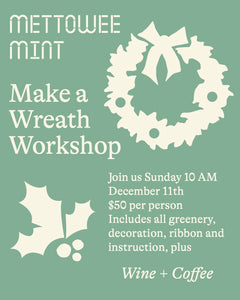 Wreath Making Workshop
Let's get merry! Book your tickets now for a wreath making workshop in the glasshouse December 10th @ 10am! Come learn the tricks of hand tied greenery with coffee or a glass of natural wine. ⁠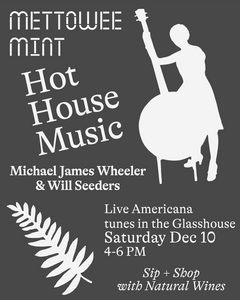 Hot House Music
Let's boogie! Mark your calendars for after hours music in the HOT HOUSE, Saturday December 10th 4-6! @micwheelerand@seederinstrumentswill be here! Shop for gifts, taste a few natural wines, and lean into holiday merry merry.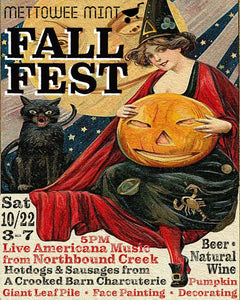 Fall Fest
Saturday, October 22, 2022
3:00 PM  7:00 PM
Another growing season wraps in October and we're once again putting on dancing shoes and party hats to whoop it up. We'll have live music from Americana band Northbound Creek, sausages from A Crooked Barn Charcuterie, beer and natural wine, fun activities for kids, and more. Bring your neighbors, bring your friends and get ready to holler at the moon!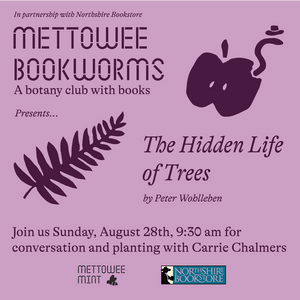 METTOWEE BOOKWORMS
Sunday, August 28, 2022
9:30 AM 
In partnership with Northshire Bookstore we're reading and meeting to chat all things botanical! Purchase titles at Northshire for a 20% discount, then join other METTOWEE BOOKWORMS at Mettowee Mint for coffee and conversation. ⁠
Featuring best-selling The Hidden Life of Trees: What They Feel, How They Communicate-- Discoveries from A Secret World by Peter Wohlleben & conversation with local landscape pro Carrie Chalmers.
Carrie will answer all your tree questions, enumerate the many benefits of planting container sized trees, and teach planting with a live demonstration!
Plus our inventory of deciduous container trees will be 30% off that morning for event attendees. ⁠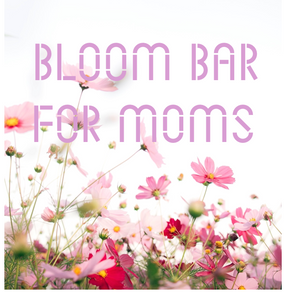 Blooms For Mom
Sat, May 7, 20222:00 PM
Sun, May 8, 202211:00 AM
We'll have LOTS of lovely flowers for sale to build your own custom arrangement specially for mom. Choose from our selection of vases or bring your own.
We'll toast moms all weekend with complimentary mimosa! Tasty coffee, baked goods and juice boxes available at the coffee bar.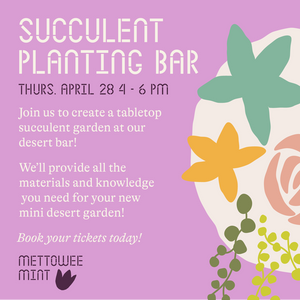 Succulent Planting Bar
Thursday, April 28, 2022
4:00 PM  6:00 PM
Join us for an afternoon of creating your own desert dish garden on April 28th from 4pm to 6pm! This even is rolling, so come anytime before 6 pm. Ticket price includes a 12" round planter, all the materials to plant your succulents and a $30 plant stipend to pick the plants you want!
Learn everything you need to pick the right plants for you, and maintain your succulent garden from our greenhouse manager.
Purchase your ticket at the link below.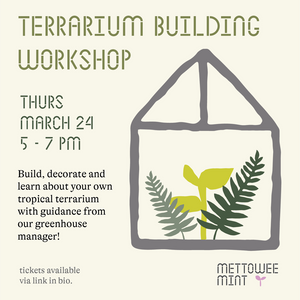 Terrarium Building Workshop
Thursday, March 24, 2022
5:00 PM  7:00 PM
Terrarium time! Come build a tiny plant world with us March 24th.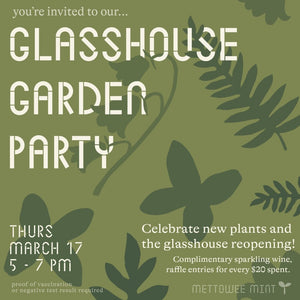 Glasshouse Garden Party
Thursday, March 17, 2022
5:00 PM  7:00 PM
So excited for you all to see all the new plants tomorrow! The citrus and gardenia are hypnotic, and don't forget we re-open for spring hours this week.